Archive server

In the course of the year 2010 on the hydro-power plant Reporting system – archive cluster of remote control was integrated.
Management over the production on the hydropower plant requires detailed and correct reporting sub-systems. The main idea of this technical solution is join automatically gathered data from the process, through SCADA system, with data collected manually from the rest of the system and enable processing in the archive server that shall generate all necessary reports for the purpose of power-plant operation and production monitoring.

The system enables archiving process data from SCADA system with techno-economic data entered manually, as well as report generating.

The Archive server has been connected on the existing SCADA system, from the class solution made by Institute Mihajlo Pupin – that monitors the power plant operation using SCADA server and RTU device.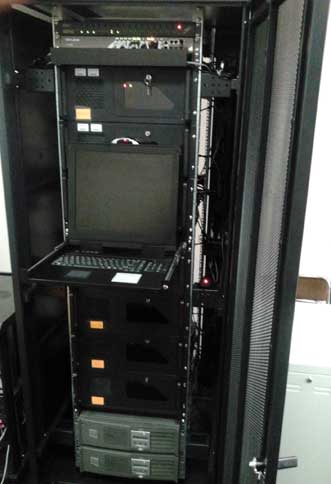 Picture 1: Archive server
Data obtained through various forms of manual entering are directly memorized in the system, without mediator. Web oriented user interface of the archive system is provided, thus facilitating the implementation on the work stations. Though this interface it is possible to review, enter and correct data, as well as to perform planned administration of the user, reports and size in the system.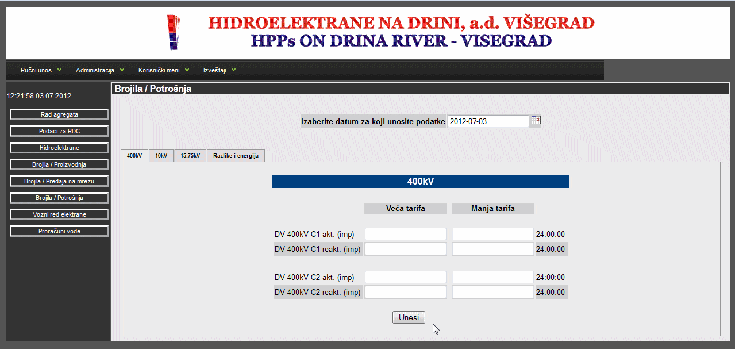 Picture 2: application preview
One of the main benefits in this system is continually available reports on the overall operation of the hydro-power plant. The reports may be daily, monthly and annual, plant or for director, and they include the information about:
Hydro-power plant operation
Production and consumption of electrical energy in the production plant
Periods of work, failures, repairs, availability and number of entrances into plant
Description of failures
Hydro-energetic parameters
Use of water for electrical power production
Plant readiness
Sale of electrical energy and returns
Auxiliary services and returns from auxiliary services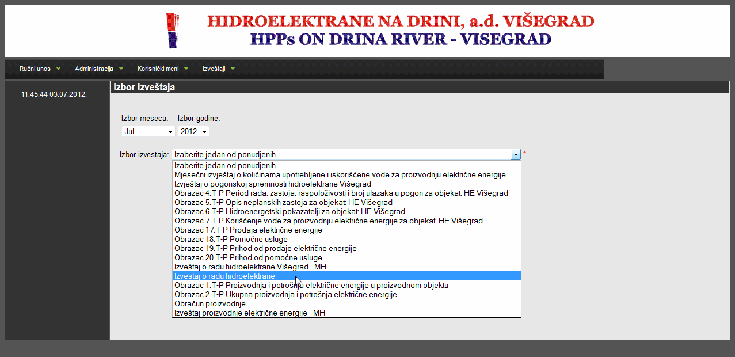 Picture 3: Report selection

All reports are in EXCEL form, which additionally makes it easy to obtain their comparative review and printing.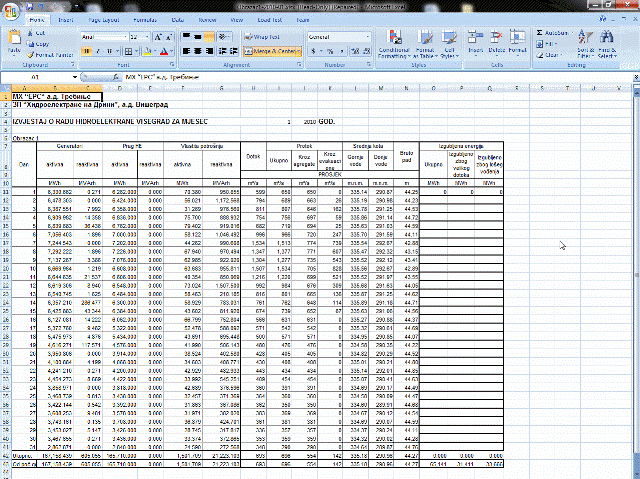 Picture 4: Report in excel form

At the end - the Project realization resulted non only in the organization of the production process, electronic reports available to all participants in the system, but it has also reduced the possibility of error in the reports.