Data Logger OC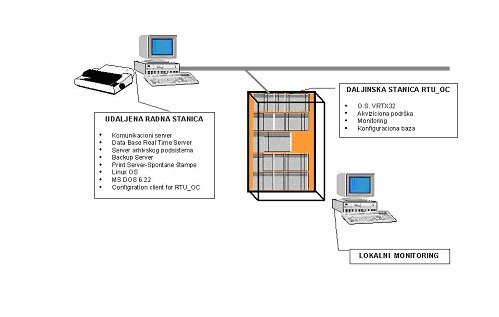 System description:
Data Logger OC system performs chronological registration of the system events in real-time.The system detects the events in milisecond time resolution, performs the local and remote monitoring with archiving.The system consists of RTU (Remote Terminal Unit) which does the data acquisition and local monitoring and the remote workstation which does the remote monitoring.

System purpose:
The system is intended for use in electric energy facilities for the purpose of monitoring of the system work and the analysis after unexpected fatal process malfuncion.
The system characteristics:
Digital input acquisition in 1ms resolution with the detection of the appearance of leading/trailing pulse edge and oscillation prevention.
Analog input acquisition with the detection of the value changes that are above the sensibility threshold, filtration function 1-75Hz, malfunction detection, configurable input range and changeable data format.
Counter input acquisiton with the "freeze counter" function .
Chronological registration of events and post-mortem record .
Internal processing: remote time synchronization, processing of the local station status with the local indication and transmision to the dispatching center, automatic malfunction detection with WD mechanism for the automatic restart, configuration and reconfiguration of the devices, local reports printing, local monitoring
Communication service for the connection to the remote system.