iBox - backup router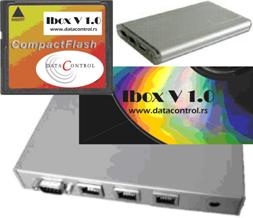 iBox Package content
Basic modul based on Alix motherboard.
220V AC to DC Adapter
IBox CD with user manual
Compact flash with full software support

iBox BACKUP
Just connect IBox Backup to your local computer network and all backup functions becomes active.
You are performing unique device administration through network access – remote administration.
User oriented administration are performed via WEB browser, like on any other web site
Backup tasks are running in background without interupting network users.
Exact dynamic of backup is set on one place.
Simple and easy backup reporting are done through e-mail to all users (optional) and administrator (obligatory), all models.
Selective data backup, by administrator choice
With more than one IBOX Backup you can duplicate backup system.
IBox Backup works with the removable disks that can be taken if the system is off line
Automatic data compression.
Automatic anti-virus check of backuped data, reporting via e-mail.
Version control system for backuped data
Duplicate disks system with hot-swap option.
IBox Backup can perform data backup on optical and magnetic mediums (DVD, tape...)

How to connect iBox
One side of IBox Backup connects to local LAN via LAN port and the other side to external storage space (hard disks, tape, etc...) via USB port.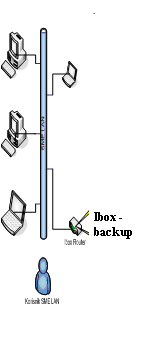 Pricture 1. Schematic of iBox connections
iBox Benefits
With the help of the User Manual that comes on IBox CD, you will be able to perform all the necessary settings by yourself with ease. The price of IBox is considerably smaller than any other products you can find on the market and does not need specially trained system adminitrator.