Tesla processing
"Tesla processing" is a software package for processing information about the cash payment, using remotely controlled terminal to accept and initiate cash payments. This system provides full automation of the entire process cash payments through payment terminals and replace traditional treasury desks in cash payment system terminals.
This software product automates the process of cash payments, replacing the Treasurer, reduces the cost of payment, and provides non-stop operation. "Tesla processing" and terminals for receiving cash as an innovative solution to automate cash payments for goods and services. The system provides the possibility of direct payments services and mobile payment services cable operators.
Tesla processing system: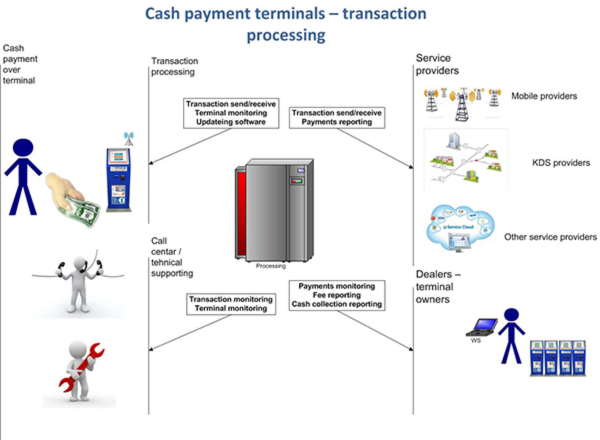 "Tesla processing" has multi-language support, configurable user roles, SMS, e-mail and web reporting. The proposed solution provides a connection to the cash terminals, monitoring their availability, monitoring financial transactions, data exchange between the terminal and the service provider and the return of information to service users.
It also allows you to monitor the performance of the whole system, as well as an overview of the functional status of the terminal and display the collected data using a Web interface. The system also provides reports on money collected from the terminal and displays obligations to service providers, a review of successful and unsuccessful payments, trade and distribution fees.